Automotive Spray Booth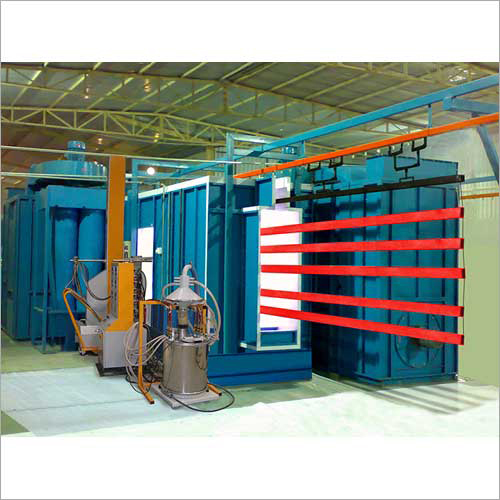 Automotive Spray Booth
Price And Quantity
Product Specifications
Automotive Spray Booth

Spray Booth
Polishing

Strong, Easy To Operate
Product Description
Automotive Spray Booths are pressure-controlled and closed environments that are used to paint vehicles from the smallest cars to the largest trucks. These booths are widely used these days and are usually fitted with different ventilation systems and motors to ensure an even paint job and to maintain a stable temperature and aid in reducing humidity levels in some instances.
A leader in paint booth technology, TECH Expert Engineering manufactures an extensive line of high-performance Automotive Spray Booth across World. With an extensive history in the finishing industry, we are experienced at designing and building high-quality paint finishing equipment from the premium Paint Booth line to budget-friendly Paint Booth line. Our spray booths are available in a wide range of sizes to suit various needs. The automotive spray booths offered by us are dry filter paint booth, down draft water wash spray booth, water wash spray booth, down draft dry spray booth, cross draft spray booth. All of them are available in both pressurized and non pressurized options.
Dedicated to continuous improvement and developing industry-leading products and technology, we have invested in the Center for Excellence, a state-of-the-art facility dedicated to research, development and designing. This facility allows us to manufacture our products precisely and dramatically improve, aligning with our commitment to bring high-quality, proven innovations quickly to the market, while also using proper safety techniques.
Specification
| | |
| --- | --- |
| Brand | Techexpert Engineering |
| Material | Mild Steel |
| Voltage | 410 V |
| Phase | Three Phase |
| Frequency | 60 Hz |
Selection
We believe that the highest efficiency in a spray booth can only be attained when the capacity, size and other specifications are best suited to the kind of work that is needed to be performed. Therefore, it is important to adhere to the following parameters while selecting the appropriate booth for a specific coating component.
Size of the article to be coated
Rate of production (i.e. Paint Consumption)
Product handling method
Water Wash Paint booth and Cross draft water wash Spray booth
Features
Modular design
Advanced air washer design
Lower installed electrical load, negligible maintenance
Accurate water flow control valve
Ex- stocks of spray booth parts ensure minimum down time
Complies with the standard health and safety legislation
Dry Type Paint booth
These booths do not give out effluents that make it easy to maintain. The metallic filters provided are used to capture over sprayed paint and give clean air output to the atmosphere.
Features-
Simple construction and low power consumption
Provided with paint arresting filters
No effluents
Easy maintenance
Downdraft Paint booth - Wet Type
The over-spray is captured by a wall of water curtain before exhausting to the atmosphere. The water curtain is achieved by a pump or without pump, these are ideal for large production rates and for paints with low solid content. It is provided with suitable exhaust blower and ideal for continuous production lines.
Features-
Suitable for painting medium and large components
Blowers/fan is direct or belt driven type
Motors and illumination are flame proof or non-flameproof
Electrical controls are supplied with push button starter
Sludge pit provided for continuous bottom water flow
Arresting of paint with water curtain
Suitable filters are provided at the intake of the water
Drainage provisions are also given for draining and cleaning
Tank protected from corrosion
Water contact points are in GI or SS construction
Advanced air washer design ensures high air washing or paint collection
Entry and exit doors sliding or automatic types
Downdraft Paint booth - Dry Type
These booths are popular for their simplicity and low power consumption. Provided with paint arresting paper filters that are easy to maintain and dispose of. No effluents, less maintenance and low operating costs make it a preferred choice in the market.
Features-
Motors and illumination are flame or non-flame proof type
Electrical controls supplied with push button or electrical control panel
Dry arresting without water and chemicals
Advanced dry paint arresting filters ensures higher efficiency
Over-sprayed paint sucked in by blower through synthetic glass fiber
Ideal use for all type of paints
Entry and exit doors sliding or automatic types
Complies with the standard health and safety legislation