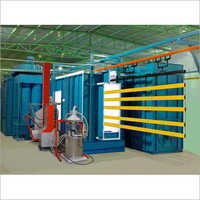 Multicyclone Powder Coating Booth
Price And Quantity
Product Specifications
Powder Coating System

Powder Coated
Gravity Feed

Easy To Operate, Durable, Strong
Product Description
Being the leading manufacturer, TECHExpert Engineering offers a complete range of uniquely designed modular Multicyclone Powder Coating Booth for both manual and fully automatic coating applications. Having years of experience we not only design and manufacture but also provide installation, commissioning and service support of powder coating systems and equipment. Apart from our wide gamut of Powder Coating Booth models, we also provide a wide range of
Powder Coating Ovens
.
These booths work with booth, multi-cyclone recovery system, filter recovery system and powder center, spray guns and reciprocator and so on. Powder coating spray booths are an environmental treatment cabinet that is mainly used in modern powder coating production industries. It captures the waste powder automatically, on one hand, it improves the working efficiency and on the other hand, it keeps the workshop clean and tidy.
This Multi-Cyclone powder coating system ensures extremely high levels of powder recovery of nearly 98 percent and provides faster color change; the bottom of the booth prevents accumulation of the powder and makes it easy for cleaning and quick color change. It has a higher life of cartridge filter with a unique rotary wing cleaning mechanism.
We have a complete range of modern, high efficiency recovery equipment to compliment your booths. our various selections include higher efficiency single or multi-cyclones, cartridge filters, non-oven antistatic bag filters and reverse pulse jet cartridge filters, ductless design, powder handling equipment and a full range of high quality application equipment including powder gun, reciprocators, electronic product sensors, auto powder recycling systems.
Features-
This system ensures extremely high levels of powder recovery of 98 percent
Faster color change
Bottom of the booth prevents accumulation of powder and makes it very easy for cleaning
Due to the specially designed shape of chamber air currents inside the booth directed towards the article, leading to high first-pass efficiency
Result maximum utilization of powder
Modular design
Booth is constructed by nut-bolt
Powder recovery through multi cyclone
Maximum illumination inside the booth
Designed for rapid color changes
Pre-assembled and tested at no extra cost