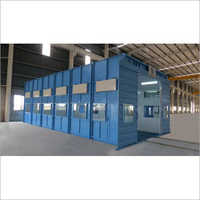 Paint Spray Booth
Product Description
As a leading Paint Spray Booth manufacturer and supplier, TECHExpert Engineering is dedicated to providing solutions across the world for a variety of industries. We utilize only the highest quality materials and state-of-the-art technology to ensure that our products are among the best in the market. For years we have supplied the finest quality paint spray booths and sophisticated finishing systems to nearly every segment of industry, ranging from the aerospace to automotive industries.

Our booths are built to last, with quality appearance, easy assembly and precise hole-positioning, our spray booths are engineered to last for years to come. The high performance exhaust fans from us are quiet, efficient and dependable and are designed and manufactured in-house, where we keep an eye on the quality and pay attention to its detail. We make sure that they are dependable because we know how expensive it can be to fix if the paint does not try correctly.

TECHExpert pride itself on providing quality spray booths and accessories that are durable, dependable, and cost-effective. By providing these system booths that cover an entire range of applications, Spray Systems is able to provide maximum flexibility in fabrication that simplifies field installation and requires fewer parts to assemble that significantly reduces assembly time, effort and overall expenses.

Features-


Hi-lighting and air flow creates a valuable booth production tool
Total floor area creates a larger open spraying area
Excellent for Automotive Spray Booths and Truck Spray Booth requirements
Affordability and expandability
Factory options allow it to meet the demanding needs of the finisher
Reverse Flow and Front Flow Spray Booths
Cross flow spray booths are versatile and affordable as per your specification
All models are available in custom or one off applications
Environmentally friendly
Sturdy construction
Low in maintenance