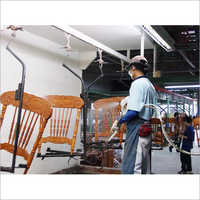 Wood Finishing System
Price And Quantity
Product Specifications
Product Description
Wood Finishing Ovens or wood drying ovens are commonly used in siding applications. Siding is factory finished with machine applied coatings. TECHExpert Engineering has developed a system to force dry boards and panels using transfer conveyors and high velocity, convection air ovens.
Wood drying is done through a chain conveyor oven. The boards are firstly loaded onto the conveyor and as they move through the drying oven, heated air is flushed through a fully enclosed, pressurized supply duct that is above and below the boards. These ducts have tapered nozzles that impinge air directly onto the surface of the boards as they travel on a chain conveyor. Our Oven designs chain conveyor ovens for drying primer, sealer and finish coatings on wood and cement board trim and panels. The wood drying ovens utilize a conveyor system and a high velocity convection air technology to efficiently dry the boards.
Our high-velocity, paint-drying oven has multiple temperature zones. A gradual temperature increase removes much of the moisture from the coating before the higher temperature skins over the paint surface. After exiting the oven, boards cool down on the same conveyor. Forced air cooling is usually not required and the system includes all conveyors, from the coater discharge to final unloading and a programmable PLC to control operations.
Features
Internationally renowned as leading exporter and manufacturer

Easy installation with nut bolted construction

Modular cassette and expandable construction

Independent controlled hot air circulation fan

World class Rockwool insulation

Minimum heat loss

Higher efficiency and outputs

Head Mounted Heater box for LPG, Electric, Natural Gas, Steam or Hot Water, Indirect Oil

Well-designed hot air circulation system

Control panel with warning alarm and timer

High Volume Low Pressure hot air circulation

Uniform temperature inside

Easy operation and material movement

Air louvres for hot air circulation with volume control
Applications
Wood Coating

Lacquering

Wood painting

Clear Acrylics coating
Trade Information
As Per Requirment Per Day

As Per order Days