Pre Treatment Plant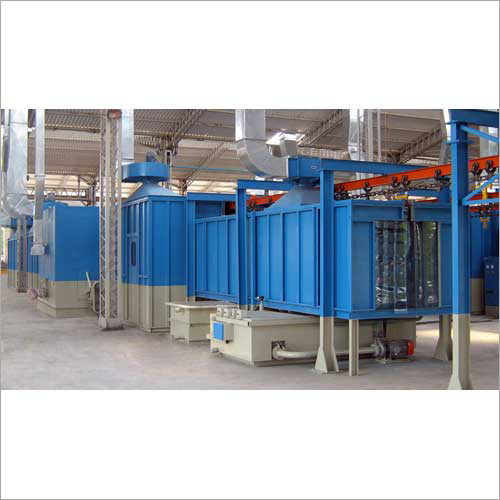 Pre Treatment Plant
Price And Quantity
Unit/Units

200000.00 - 700000.00 INR
Product Specifications
Automatic

Human Machine Interface
Product Description
A thorough material pre-treatment is the fundamental prerequisite of any high quality coating and wet or dry pre-treatment depends on the material to be coated. TECHExpert Engineering provides solutions for degreasing, Phosphating, grinding, shot blasting or ionizing on the turnkey basis with the requisite Pre Treatment Plant.
TECHExpert is the leading provider and specializes in manufacturing and exporting of Automatic Pre Treatment Plant that is admired by our clients for their robust construction and automatic smooth functioning. These plants are fully programmed according to the process requirements of our esteemed clients. These are used for surface preparation for painting, powder coating, etc this includes cleaning and phosphating, cromatising, etc.
Dip Pre treatment Plants
Dip Pretreatment Plants are commonly used for long and heavy components to clean and conversion coatings of metals prior to powder or paint application. The main advantage of our plants as compared to spray pre-treatment is online rust removal system depending upon the material of construction, work piece we offer different type of plants along with drying tank for various types of conversion coatings like Iron, Zinc and Alchrome.
TECHExpert offers material handling systems either twin hoist or PLC operated transporter depending upon the clients requirements. All our plants are energy and water saving and are also environmentally friendly.
Spray Pre treatment Plants-
Spray pre treatment is suitable for medium to high production volume with overhead or Power and Free conveyors depending upon the work piece size, shape and weight. TECHExpert offers different types of spray pre treatment plants for Zinc, Iron, Nano-ceramic conversion coatings depending upon the material of construction.
Our offered Spray Pre treatment plants are made of Stainless steel or mild steel or a combination of SS and MS spray tunnels along with direct or indirect heating system, vertical pump for high transfer efficiency, easy clip on nozzles with PP revolving tip to adjust nozzle spray, etc.
Additional Accessories-
Oil removal system
Phosphate on-line sludge removal system
Indirect heating for chemical and chemical dosing system
Fume extraction system
Heating Systems
Thermic fluid
Hot water
Direct immersion heater
Diesel/gas burners
Features and Benefits-
Consistent quality of coatings to meet specification requirement
Significant improvements in paint and powder coating
Improved corrosion resistance under organic coating
Provide increased adhesion and improved flexibility
Adhesive bonding and laminating is made possible
Increases scratch and impact resistance
Wear resistance and anti-galling properties
Improvement in corrosion resistance of metal parts
Heavy Phosphate coatings
Condition the surface enabling adherence of paint
Suitable for ferrous and non-ferrous components processing
Applications
: Industrial application like engines, valves, pumps, fan, motors, alternators, automotive, auto components, automotive filters, plastic components and its applications, white goods, steel furniture, etc.